27th Biennial Trans Superior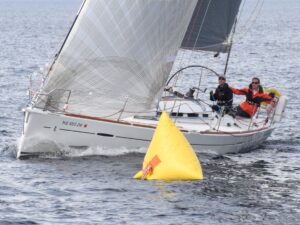 Audacity, a modern production style forty-foot boat, is entered for the doubled handed 2021 Trans Superior Race. Owned by two brothers, Christopher and Michael Laing, from Green Bay, Wisconsin. Audacity was previously under the British flag until 2016 when she was purchased and transported over from Southampton, United Kingdom.
The Laing brothers' passion for the water started at Windjammers Sailing Club, a small family centered organization in Green Bay. Here, they grew up participating in club races, sail training programs, and of course family cruises around Green Bay and Lake Michigan. The brothers sailed anything from Lasers, Lightnings, mid-size keelboats, and eventually crewed aboard a high performance Taylor 49, an "Experience" which sparked a desire to enter the world of offshore racing.
The Laing's first double-handed race was the 2015 Hook, commandeering their parents' Hunter 28.5 for the 189 nautical mile race starting in Racine, Wisconsin and finishing in Menominee Michigan. It was there they understood the importance of watch systems and what living consecutive days on the lake were really about. When given conditions ranging from a perfect thumb line reach, to glassy waters with lake flies eating other dead lake flies, to clear starry nights under spinnaker working your way off Lake Michigan through the fleet ahead of a storm, it's really hard not to want to return to the scene.
The Trans-Superior Yacht Race offers a unique platform. Sailing across a vast, yet secluded and sometimes treacherous lake provides an immersive opportunity to apply and grow skills in an "off grid" sailing environment. For three or four days, nothing else matters except for you and your boat.
2021 marks Audacity's 3rd consecutive Trans-Superior, we look forward to seeing everyone at the start line in August!
– Christopher & Michael Laing